Uni 201 - The Art of Place: Class 2 | Class 3 | Class 4
---
I - Conceptualization: The Art of Place
Schedule | Resources | Class Notes | Overview
Session 1a: 
Introduction to course and themes to be covered in class
Explore our connection to place (i.e. "sense of place") and how we navigate alternative expressions of place through creative means
Session 1b:
---
Resources: 
Inspirations...

A clip from the beautiful documentary on  Andy Goldsworthy, "Rivers and Tides". If you enjoy this clip, please support his work by purchasing the dvd. In this clip he works on hanging a meticulous sculpture from a tree, and ultimately fails.

Rivers and Tides partie 1 by ArtisReflex

Rivers and Tides partie 2 by ArtisReflex

Nadalian is an Iranian sculptor whose life's work involves engendering respect for living creatures and the natural environment.

Ken Robinson says schools kill creativity

---
Class I - Notes: 
Our Sense Of Place

Wayfinding Signpost Sketch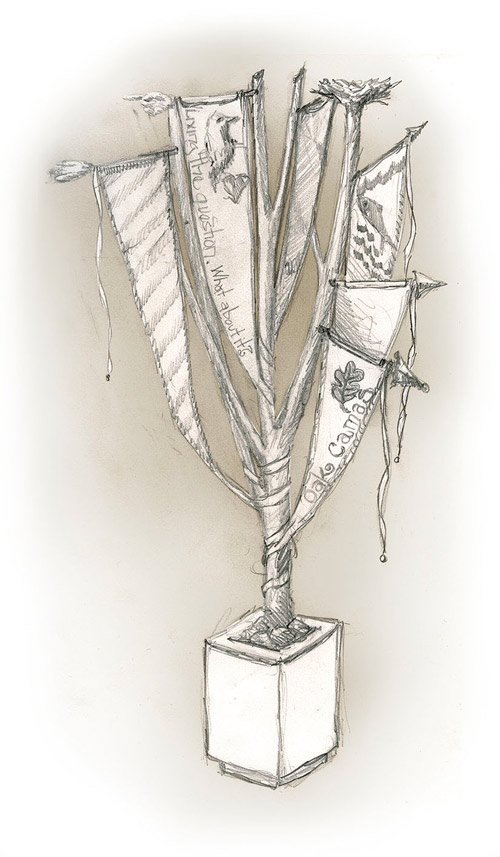 Our Participatory Community-Based Way Finding Art Project: 
To create a sense of place with a temporary sign post, using community-based art
To create directional arrows and wayfinding banners that present special-place-based stories
To erect a sign post, with the help of UVic facilities who will provide both a rock-covered bin as a base, and a 15-20' deadfall tree, from which to hang our directional banners
The Wayfinding Signpost will be temporarily installed from Sep 1-15 in the centre of campus, close to the 2 totem poles, as an orientation compass for new, and returning, UVic students
This project will create an opportunity to share place-based stories, and directly participate with our UVic landscape, sending people out in all directions to find some Special Place
Homework 1: Making Papier-mâché Directional Arrow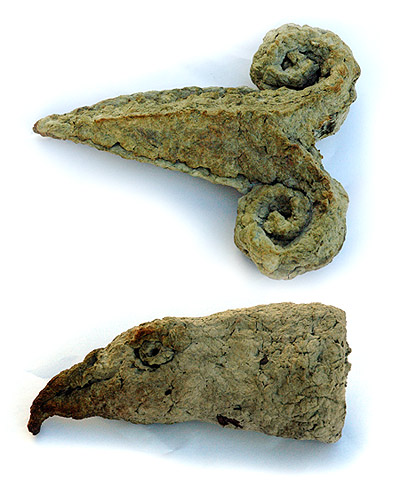 Arrow should be maximum size of 5" x 7" or 10cm x 13cm
Keep papier-mâché ball in plastic bag in cool place until ready to work (if you need more papier-mâché, contact Ken to arrange to get more, or wait till next class)
Form compact ball
Push end of 3/4" stick to embed halfway into one end of ball
Shape your arrow
Pull out stick, ensuring hole remains to host permanent mounting stick
Dry: in sunny spot, or in low oven (250 degrees F)
When surface-dry, turn over, continue drying
Dry thoroughly before painting design

a note from Ken: The Papier-mâché is quite different to work with than clay or plasticine. You can get a more clay like consistency by squeezing out more water and adding white glue instead. Wall paper paste is good too! I'll have some at class on tuesday. I used chopsticks, a knife, bottle cap etc. to press lines and curves into it.
Homework 2: Choose A Special Place to Point Direction To
Choose more than one Place, as plan B, to ensure no class duplicates
Choose what you want to say - a Place-based Story, image, etc
How far away is this Special Place? (e.g. # feet, miles, hop-skip-jump-turn-arounds)
Ken, our resident cartographer/map-maker, will assist us wth our directions
Start thinking about how you would portray this on banner (eg: embroider, stitch, paint, draw, words, pictures, attachments etc)
---
The Art of Place: Role of Community-based Art in Academia: 
Course Overview This course will be an exciting romp through the world of community-based environmental art. Does it have a place within academia on a university campus? Over the course of four classes we'll focus on themes such as building community through collaborative art projects, development of personal sense of place, and empowerment made through enhanced connectedness to the environment and to each other. Each class will be divided into two parts: first will be an interactive session where we will discuss the process of making community-based art from creative conceptualization through to the realization of a formal proposal; and second will be an experiential, or hands-on, session where we will design and create a community art project together. Students should come to class prepared be active, get dirty, and walk outside. In addition to staying up-to-date on class readings and resources, students also will be expected to work on, and contribute to, the community art project outside of class.
---