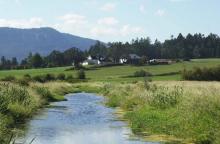 Update May 2010: Geog391 Community Mapping Course students had a field trip to collect theme-based photos to start adding photos to an interactive web-map & photo blog. Wendy Anthony has chosen as her research project to document the steps involved ... keep tuned ...
We started a Photo Blogging site & teaser Interactive WebMap site for them
Update: We're meeting with the Woodwynn folk in early July 2009 to talk about a web-map / photo blogging project. STUDENT VOLUNTEERS NEEDED!
---
The Community Mapping Centre is helping out the Woodwynn Therapeutic Community by loaning an iMac computer to compliment their downtown information booth on View and Broad.


We are planning to do a mapping session sometime in May, before the June 1st possession date. Read more about the Woodwyn Therapeutic Community.
Woodwynn Farm is a homeless shelter initiative centred on the lovely Woodwynn farm (see picture below) led by Richard Leblanc and Rob Reid.


Woodwynn Farm Community Map