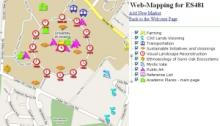 ES481: Landscape Reconstruction - Lessons in Applied Ethnoecological Research students presented the results of their Spring 2009 class projects on Monday 6 April 2009 in the Geography Department board room. The event was organized by instructor Brenda Beckwith and Resource Centre lead Ken Josephson.
Using a "sand box", at http://es481.geog.uvic.ca, the students collected information and mapped dozens of sites, all revolving around themes of sustainability and restoration. The Community Mapping Collaboratory assisted the Dr. Beckwith and her students with technical help, cartographic guidance and by hosting the sand box. The results were fantastic! We hope to have the new map sites added to the UVic Green Map as soon as possible.
Here is the a slide show of images from the Launch:
Below is the invite to the Launch Event. Attending were representatives from Common Ground Community Mapping Project, UVic Computer Science, the UVic Library, and UVic Environmental Studies. Click image to see a large image of the invite.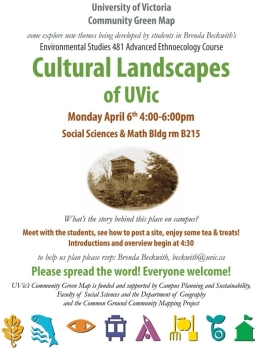 Here is a photo of the ES481S09 Team