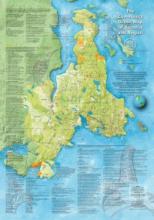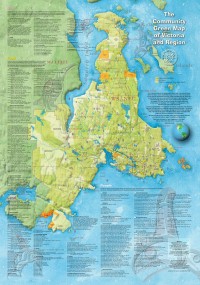 About: The Victoria region is home for salmon, skateboarders, seabirds, senior athletes, Songhees artists, secondhand store workers, and strawberry farmers. The Community Green Map is a map of our home, showing some of the ways we are all connected through the city we've built, the food we grow and eat, the things we do, and the land we live on.
Click on image to right for a larger preview.
Green Maps have been created all over the world, from Victoria Falls, Zimbabwe to Copenhagen, Denmark to New York City, where the system was created by designer Wendy Brawer. Today, 237 Green Map projects are active in 39 countries. Since 1999, ,Common Ground has been asking people from all over the region what they value about their home. This has resulted in many community mapping projects and this regional Green Map.
The sites on the map are divided into the categories of City, Food, People & Land but in truth, everything is as tangled as kelp on the beach. Nature doesn't start at the city limits and the people of the region know that. They plant gardens next to parking lots and work to restore streams that run under shopping malls. Our entanglements with the land, food, people and the city sustain us and make us alive.
The first Community Green Map is a map of us. Whether you are a long-time resident, a newcomer, or a visitor we hope that our Green Map inspires personal involvement, social responsibility and community pride.
Combining digital datasets with watercolour illustrations, cartographer Ken Josephson has given the map a textured, artistic feel reflective of the spirit of place. The beautiful First Nations illustrations that accompany the map are by Butch Dick, a Songhees artist. Also look on the map for First Nations place names - reminders of the history and continued importance of this Native land. We hope this map will be an inspiration and a resource for ongoing discovery and connection with our region for residents and visitors alike.
Funders:
VanCity Credit Union, HRDC Canada, Vancouver Foundation, Real Estate Foundation of B.C., Victoria Foundation, TD Environment Fund.
Partners-Supporters:
UVic Faculty of Social Sciences, UVic and Camosun College Geography Departments, City of Victoria, Capital Region District, Provincial Capital Commission, Community Social Planning Council, Victoria Community Association Network, LifeCycles, EcoTrust Canada, The Land Conservancy, Habitat Acquisition Trust, Victoria Natural History Society, City Green, and the many, many local volunteers and interns!