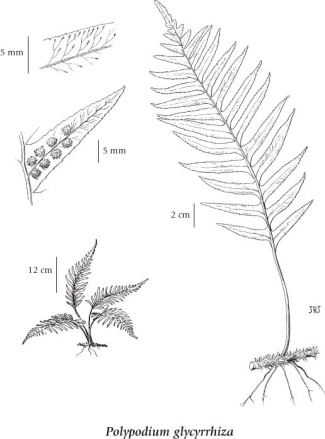 Other names.
Polypodium glycyrrhiza
St'uselóye (Halq'emeylem)
Identification.
Licorice fern is a small, evergreen fern that grows on mossy rocks, ground and logs as well as on big-leaf maple tree trunks as single leaves from long, scaly rhizomes. Licorice fern is Lanceolate, 10-60 cm long, 2-15 cm wide, pinnatifid with sharp deep incisions and elongated pointed segments with toothed margins; rachis with rusty hairs on upper surface in the top one third.
Distribution and Habitat.
Licorice Fern is part of the highly biodiverse collection of plant species found in the Garry Oak Ecosystem, as well associated ecosystems such as the Douglas Fir Forest as they colonize the bark of Big-leaf Maple (Acer macrophyllum) trees as an epiphyte, meaning it can gather its moisture and nutrients largely from the air, rain, water and debris around it. It occurs in sub-maritime cool climates and can grow in very shallow, calcium rich soils or barks making it highly distributed throughout Douglas-fir Forests, and on water shedding and water receiving sites such as Mount Tolmie.
Ethnobotanical Uses.
Traditionally, the rhizomes of licorice fern were chewed for the sweet licorice flavour by First Nations including Squamish, Comox, Nuxalk, Haida, and Kwakwaka'wakw. They were sometimes steamed or cooked and eaten as well, but the rhizomes were most often harvested to use as medicine for colds and sore throats, as well as mixed with bitter medicines to sweeten them.
View presentation of how to make licorice candies with licorice fern here
Written by Kayla Hartemink
References.
MacKinnon, A., Pojar, J. & Coupe, R. (1992). Plants of Northern British Columbia. Edmonton: Lone Pine Publishing.
First Voices [website]. (2017). retrieved from http://www.firstvoices.com/en/Halqemeylem/word- category/381badaa59825b84/--Plants---ferns
Klinkenberg, B. (2017). E-Flora BC: Electronic Atlas of the Plants of British Columbia[eflora.bc.ca]. Lab for Advanced Spatial Analysis, Department of Geography: University of British Columbia, Vancouver.
Image: