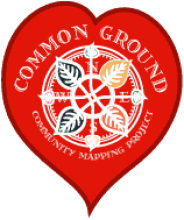 Common Ground held a mapping workshop and Chai and Pie celebration 2-5 PM Friday 16 February 2007.
The time was ripe to get more people involved in community mapping in the Victoria region. During 2005/2006 CG helped publish half a dozen community Green Maps. We continued to build relationships with the City, UVIC, the CRD, Green Map, community associations, groups and schools locally and globally! We also joined LifeCycles as a project. We get lots of phone calls and emails asking for advice and support. Our goal in 2007 is to build on this success and get even more people to experience community mapping as a tool for public participation and
community engagement.
Pre-party Informal Workshop, 2-3:30 PM.
Presentation - Maeve, Amy and Charles facilitated a discussion about examples of our past and present Common Ground projects, our cooperation with LifeCycles and our international connections. We hope lots of partners from previous and current visions projects will be on-hand to share their stories.

Mapping the Love - We made a new layer of information for the Online Greater Victoria Green Map, and learned how we go from paper maps to the online Wikimap. Web architect Patrick Hayes gave a demo and answered questions.
Chai and Pie Party, 4-5 PM.
We'll start the Pie and Chai Celebration - Tim Elkin and the rest of the CG board cut the ribbon on the new CG website and talked about our future program plans.
Sponsored by

Supported by VanCity Credit Union