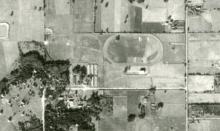 In fall 2017 the Agricultural Land Commission (ALC) approved the Agricultural Reclamation and Drainage Plan for the Sandown site in the District of North Saanich.
As described on the District on North Saanich website:
"Subdivision approval was granted creating the 3 parcels, which make up the 12-acre commercial site and the 83-acre agricultural parcel. The transfer of the 83 acres to District ownership, the inclusion of the District's own 12.05-acre adjacent parcel to the west, and the exclusion of the 12-acre commercial portion is now complete.
The District has issued a building permit for a Canadian Tire store on the commercial site, and reclamation works have begun on the agricultural site. Associated infrastructure and servicing works are also underway.
Following the Vision Sandown process, Council has awarded a contract to CRFAIR Sandown Transition Team, known as the Sandown Transition Team for transition planning services for the agricultural lands."
---
Geography 391, Mapping Edible Geographies of Fall 2015, began engaging students with the Sandown site. Led by Rhianna Nagel in her former position with the University of Victoria Institute for Studies & Innovation in Community-University Engagement (ISICUE), students who selected the Sandown site for their final project began the process of researching and mapping the area from the perspective of reclamation and agricultural land use.