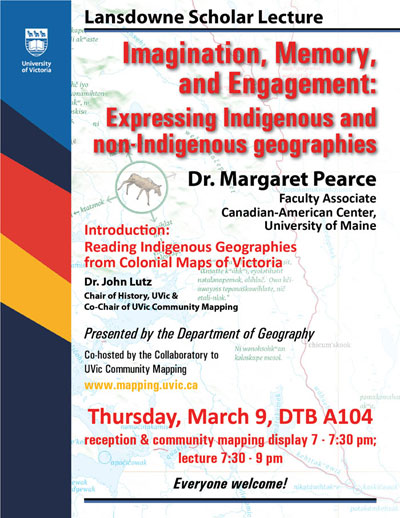 Kicker:
Imagination, Memory, and Engagement: Expressing Indigenous and non-Indigenous geographies
Dr. Margaret Pearce: faculty associate, Canadian-American Center, University of Maine
Introduction by Dr. John Lutz: chair of History, UVic, and co-chair of UVic Community Mapping Collaboratory
Thursday, March 9, DTB A104
reception and community mapping display 7-7:30 pm
lecture 7:30-9 pm
__________________________________________________
Margaret Pearce is a cartographer based in Rockland, Maine. In addition to producing her own imprints, her 2015-2017 clients and collaborators include the Canadian-American Center of the University of Maine, the National Museum of the American Indian-NY, and Penobscot Cultural & Historic Preservation Department of Penobscot Nation. She has 18 years of experience as a geography faculty member, most recently as Associate Professor of Geography at the University of Kansas. She is a member of Citizen Potawatomi Nation and holds a PhD in Geography from Clark University.
Recipient of the ACLS Faculty Fellowship, School for Advanced Research Fellowship, and Franklin Research Grant from the American Philosophical Society.
Two of my maps have received national design awards, and one was selected for Map: Exploring the World, a 2015 volume by Phaidon Press featuring 300 "milestones" in cartography from ancient to contemporary times.
My work been exhibited in the "Contested American Identities" show at the University of Kansas in 2015, and in "Women in Cartography: Five Centuries of Accomplishments" at the Norman B. Leventhal Map Center, Boston Public Library, 2015–2016.
Awarded tenure at the University of Kansas in 2014.